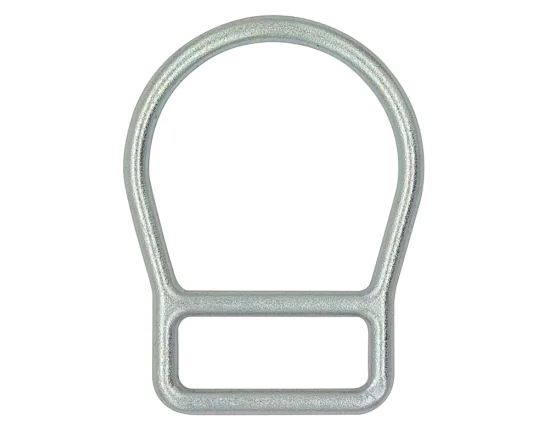 45mm Safety harnesses D-ring
Webbing:45mm
Min. Breaking load:5000lbs/23KN
Net weight:80g
Meets or Exceeds:ANSI Z359.12-09、CSA Z259.12-11
US $0.77 - US $0.92
/ piece
A drop forged steel D-ring is a type of hardware used for lifting and securing heavy loads. It is made by the process of drop forging, where a heated steel billet is hammered into shape using a die under high pressure. This results in a strong and durable D-ring with consistent grain flow and no weak spots.
The D-ring itself is shaped like the letter"D,"with a flat base and a curved top. It has a loop on one end that can be attached to chains, straps, or cables, while the other end can be used to secure the load.
Drop forged steel D-rings are commonly used in the construction, transportation, and manufacturing industries, where heavy loads need to be lifted, moved, or secured. They are often found on trucks, trailers, cranes, and other heavy equipment.
It is important to ensure that the load capacity of the D-ring matches the weight of the load being lifted or secured. Using a D-ring with a lower weight capacity than the load can lead to failure and potentially serious accidents.