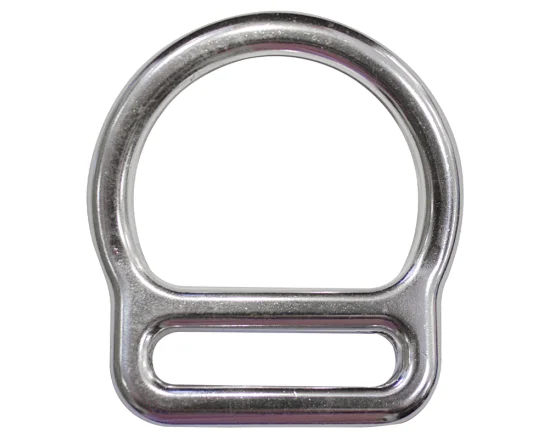 50mm Aluminium Safety harnesses D-ring
Webbing:50mm
Min. Breaking load:5000lbs/23KN
Net weight:66g
Meets or Exceeds:ANSI Z359.12-09、CSA Z259.12-11
US $1.58 - US $1.89
/ piece
Product Description:
A steel slotted D-ring is a type of metal hardware commonly used in various industrial and commercial applications, including cargo control, rigging, and lifting. The steel slotted D-ring is made from high-strength steel, which makes it durable and resistant to corrosion.
The steel slotted D-ring is designed in the shape of a"D"with a small slot cut out of the straight edge, similar to a regular slotted D-ring. However, due to the strength of the steel, these D-rings can support much heavier loads than those made from other materials.
Steel slotted D-rings are used as connection points for chains, ropes, and straps, allowing them to be attached to cargo, machinery, or other objects. The slot in the straight edge of the D-ring allows the chain, rope, or strap to be looped through the ring, then secured in place using a pin or other fastener.
Steel slotted D-rings are preferred over other materials when high-strength and durability are required. They are commonly used in industrial settings such as construction, manufacturing, and transportation.
Overall, steel slotted D-rings are a reliable and robust hardware option for heavy-duty applications that require secure and strong connections.
Detail: