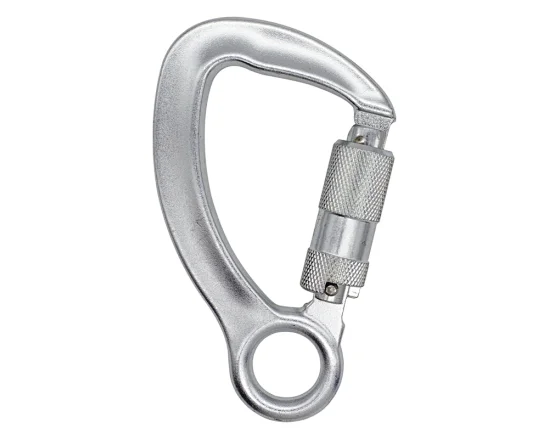 Captive Eye Steel Carabiner
Gate size:20mm
Min. Breaking load:10000lbs/45kN
Net weight:265.6g
Meets or Exceeds:ANIS Z359.12-09 CSA Z259.12-11
EN362-2004
US $4.01 - US $4.81
/ piece
A 45KN carabiner is a type of carabiner with a minimum breaking strength of 45 kilonewtons (KN). Carabiners are used in a variety of applications, but most commonly in rock climbing and mountaineering as a means of connecting ropes, anchors, and other equipment.
The strength of a carabiner is an important consideration when selecting one for a particular application. A carabiner's strength is usually measured in kilonewtons (KN), which is a unit of force. A 45KN carabiner is considered to be a very strong carabiner and is suitable for use in high-load applications.
It is important to note that a carabiner's strength can be affected by a number of factors, including its age, condition, and use. It is always important to inspect your carabiners regularly and retire them if they show signs of damage or wear. Additionally, it is important to use the correct carabiner for the specific application and to follow all manufacturer guidelines for use and care.