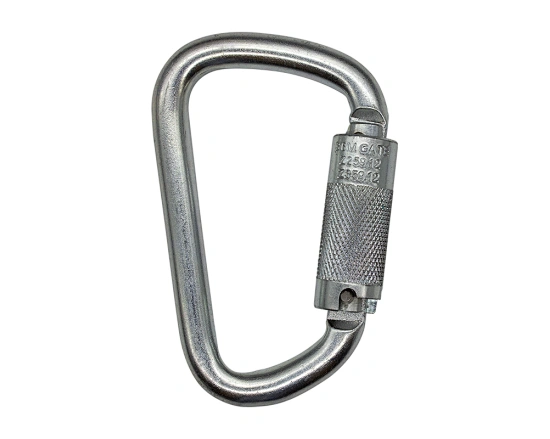 Carabiner-Triple Lock-Steel
Gate size:24mm
Min. Breaking load:10000lbs/45kN
Net weight: 285g
Meets or Exceeds:ANSI Z359.12-09、CSA Z259.12-11、
EN362-2004
US $2.33 - US $2.79
/ piece
Product Description:
A D carabiner is a type of carabiner that is shaped like the letter"D."It is a common shape for carabiners used in rock climbing, mountaineering, and other outdoor activities.
The D shape is preferred for several reasons. First, it provides a large gate opening, making it easier to clip ropes, anchors, and other equipment. Second, the straight spine of the D carabiner allows it to sit flat against a surface, making it less likely to shift or rotate once attached. Finally, the D shape provides a large internal volume, which allows for a wider range of rope and knot configurations.
D carabiners come in various sizes, materials, and strengths. They are often made of lightweight materials such as aluminum or titanium and are available in both single and double locking versions.
When selecting a D carabiner, it's important to consider its strength, weight, and intended use. It's also important to inspect the carabiner regularly for signs of wear or damage and to retire it if it shows any signs of weakness.
Detail: