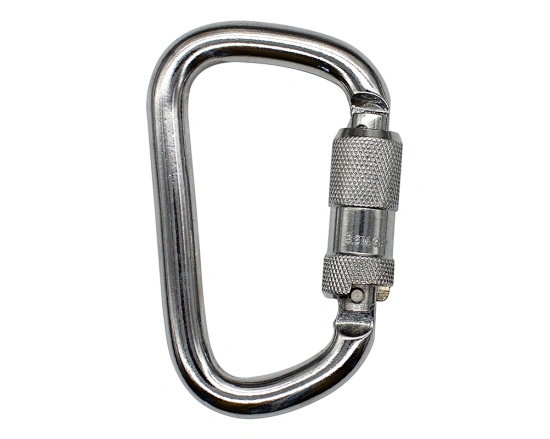 DOUBLE LOCKING CARABINER
Gate size:24mm
Min. Breaking load:10000lbs/45kN
Net weight:285g
Meets or Exceeds:ANSI Z359.12-09、CSA Z259.12- 11、EN362-2004
US $2.21 - US $2.65
/ piece
A double locking carabiner is a type of carabiner that features a locking mechanism that requires two separate actions to open the gate. The first action typically involves unlocking a small gate or sleeve that covers the main gate, and the second action involves opening the main gate itself.
The purpose of the double locking mechanism is to provide an extra layer of security and prevent accidental gate opening, which could be extremely dangerous in situations such as climbing or rescue operations.
Double locking carabiners are commonly used in high-risk applications such as rope access work, industrial climbing, and rescue operations. They are available in various shapes, sizes, and materials, and can be chosen based on specific requirements of the application.
It's important to note that a double locking carabiner should always be used in accordance with the manufacturer's guidelines and should be regularly inspected for signs of wear or damage. Any damaged or worn carabiner should be immediately retired and replaced to ensure maximum safety.
Detail: