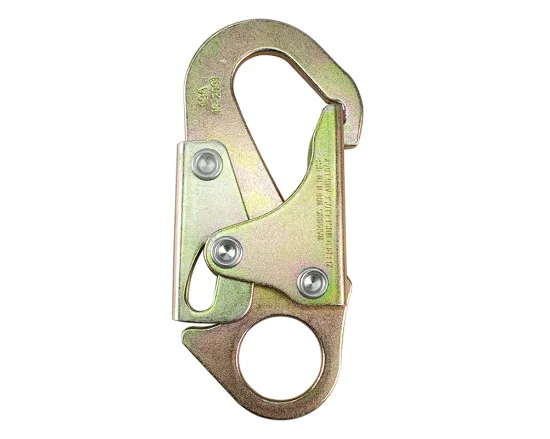 double locking snap hook
Gate size:21mm
Min. Breaking load:5000lbs/23kN
Net weight:362g
Meets or Exceeds:ANSI Z359.12-09、CSA Z259.12- 11、EN362-2004
US $1.64 - US $1.97
/ piece
A scaffold hook is a tool used in construction and other industrial settings to secure scaffolding to a building or structure. The hook is typically made of steel and designed to fit over the top of a building or other structure, with a strong and secure grip that prevents the scaffolding from slipping or shifting during use.
Scaffold hooks come in a variety of sizes and shapes to accommodate different types of scaffolding and building structures. Some are designed to be used with specific types of scaffolding, while others are more versatile and can be used with a wide range of different systems.
In addition to providing a secure anchor point for scaffolding, scaffold hooks also help to improve safety on job sites by preventing accidents and injuries that can occur when scaffolding shifts or falls. They are an essential tool for anyone who works in construction or industrial settings where scaffolding is used.