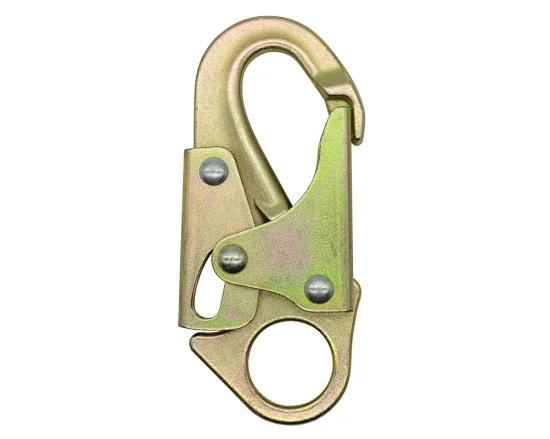 double locking snap hook
Gate size:21mm
Min. Breaking load:5000lbs/23KN
Net weight:413g
Meets or Exceeds:ANSI Z359.12-09、CSA Z259.12-11、EN362-2004
US $1.89 - US $2.27
/ piece
A safety hook snap is a type of fastener that is commonly used in a variety of applications where safety is a concern. It typically consists of a hook-shaped metal component that can be attached to a loop or other structure, along with a spring-loaded mechanism that allows the hook to be easily opened and closed.
Safety hook snaps are often used in applications such as boating, camping, and other outdoor activities, as well as in industrial and construction settings. They are designed to provide a secure and reliable connection between two objects, while also allowing for quick and easy detachment when necessary.
In addition to their hook and spring mechanism, many safety hook snaps also feature additional safety features such as locking mechanisms, breakaway designs, or built-in alarms that alert the user if the snap becomes disengaged. These features help to ensure that the snap remains securely attached even under extreme conditions, and can help to prevent accidents or injuries.