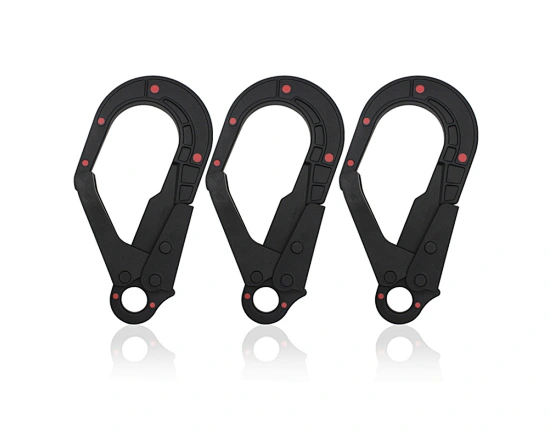 High Strength Dielectric Rope Snap Hook
Material:Plastic over Molded
Min.Breaking load:23kN
Net weight:627.5g
Meets or Exceeds: EN362:2004
Minimum 9KV Dielectic Resistance
US $14.90 - US $15.90
/ piece
Product Description:
The JS-DE2021 Dielectric Snap Hook is a tool designed for high-altitude operation or electric power maintenance which protects workers from electrical hazards. Made of plastic over-molded material, this Dielectric Rope Snap Hook is lightweight at 627.5g and has a minimum breaking load of 23kN. The product meets or exceeds the EN362 : 2004 standards, ensuring its high quality, durability and safety. With a minimum 9KV dielectric resistance, this hook also provides electrical insulation protection, keeping workers safe from electrical hazards.
This product can be used along with the insulated rod or gloves and has an easy-to-use hook shape, capable of firmly securing a fixed component in high-altitude areas, preventing direct contact between the worker and the component. It is highly suitable for professional workers in fields such as electricity, telecommunications, and rescue.
In summary, the JS-DE2021 9KV Insulation Hook is an excellent solution for high-altitude work safety. Its lightweight design, high breaking load, and dielectric resistance make it an effective and reliable choice for workers that need to operate in high altitude locations. The product is an indispensable tool for ensuring the safety of workers in various industries involving high-altitude operation.
Detail: