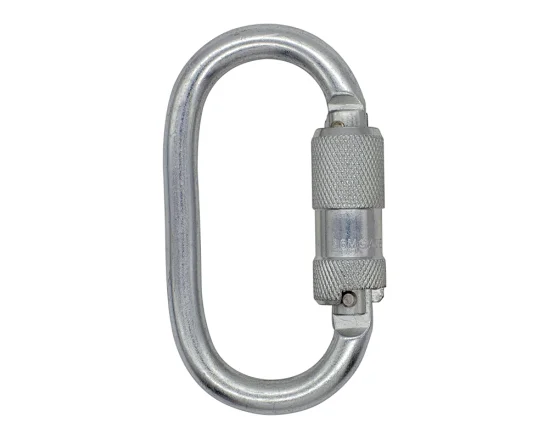 JENSAN Steel O Pro Lock Carabiner
Gate size:18mm
Min. Breaking load:5000lbs/25KN
Net weight:209g
Meets or Exceeds:ANSIZ359.12-09、CSA Z259.12-11、
EN362-2004
US $1.89 - US $2.27
/ piece
An oval carabiner is a type of carabiner that has a symmetrical, oval-shaped body. This shape is designed to provide a larger surface area for attaching ropes, slings, and other equipment, making it easier to clip and unclip gear.
Oval carabiners are commonly used in a variety of outdoor activities, including rock climbing, mountaineering, and caving. They are often preferred for applications where a large gate opening is not necessary, but a wide, symmetrical basket is required to accommodate a range of gear configurations.
Oval carabiners are available in both locking and non-locking versions, and come in a range of sizes, materials, and strengths. When selecting an oval carabiner, it's important to consider factors such as the intended use, the weight of the climber and equipment, and the strength of the carabiner.
One advantage of oval carabiners is that they can be rotated along the major axis, allowing for even wear on the carabiner and reducing the risk of cross-loading. However, it's still important to inspect your oval carabiners regularly for signs of wear or damage, and to retire them immediately if they show any signs of weakness.