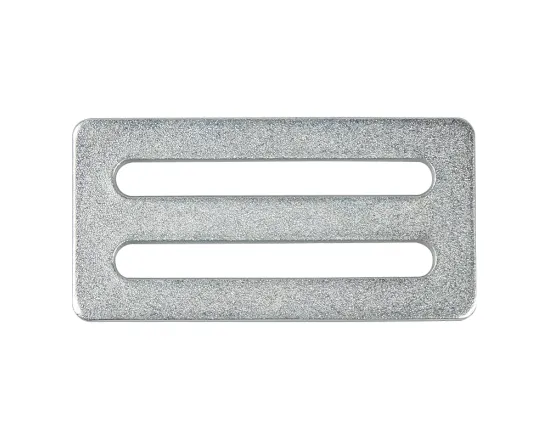 Safety Harness Accessory Slide Buckle
Webbing:45mm
Min. Breaking load:4000lbs/18kN
Net weight:27g
Meets or Exceeds:ANSI Z359.12-09、CSA Z259.12-11
US $0.14 - US $0.17
/ piece
Alloy steel safety harnesses with 3-bar buckles are a type of personal protective equipment (PPE) used to protect workers from falling while working at heights. The harness is made of high-strength alloy steel and is designed to distribute the force of a fall over a larger area of the body to reduce the risk of injury.
The 3-bar buckles are a type of fastener that is used to secure the harness around the waist and legs of the worker. These buckles are designed to be easy to use and adjust, while still providing a secure fit. They are typically made of high-strength steel or aluminum to withstand the forces of a fall.
When using a safety harness with 3-bar buckles, it is important to follow the manufacturer's instructions for proper fitting and use. This includes ensuring that the harness is properly adjusted and secured, and that all straps and buckles are in good condition. It is also important to inspect the harness regularly for signs of wear or damage, and to replace it if any issues are found.
Overall, alloy steel safety harnesses with 3-bar buckles are an important tool for workers who perform tasks at heights. They provide an additional layer of protection against falls, which can be potentially life-threatening.
Detail