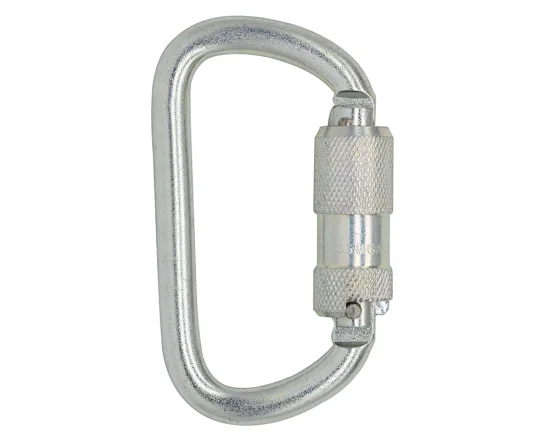 Steel Carabiner Suppliers
Gate size:18mm
Min. Breaking load:6500lbs/30KN
Net weight:208g
Meets or Exceeds:ANSI Z359.12-09、CSA Z259.12- 11、EN362-2004
US $1.89 - US $2.27
/ piece
An offset carabiner is a type of carabiner that has an asymmetrical shape, with one end of the carabiner wider than the other. This shape is designed to allow the carabiner to sit flush against a surface, such as a bolt hanger or piton, while still allowing a rope or other equipment to be clipped into the carabiner.
Offset carabiners are commonly used in aid climbing, where climbers use gear to help them ascend a route. They are often used to connect aiders, etriers, or daisy chains to anchor points, or to connect gear such as nuts or cams to the climbing rope.
The offset shape of the carabiner can help reduce the risk of the carabiner rotating or shifting once it's attached to the anchor point. This can be especially important in situations where the gear is supporting the weight of the climber.
Offset carabiners come in a range of sizes, materials, and strengths, and can be selected based on the specific needs of the climber and the climbing route. It's important to inspect your offset carabiners regularly for signs of wear or damage and to retire them immediately if they show any signs of weakness.