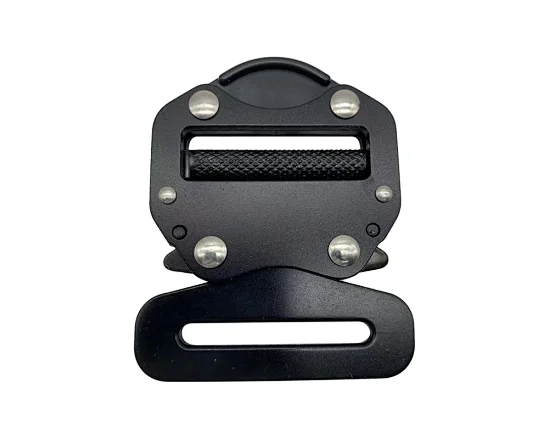 Tactical Aluminum Quick Release Buckle
Webbing:45mm
Min. Breaking load:4000lbs/18kN
Net weight:83.3g
Meets or Exceeds:ANSI Z359.12-09、CSA Z259.12-11
US $2.46 - US $2.95
/ piece
Product Description:
Aluminum tactical belt buckles are a type of belt buckle that is made of aluminum and designed for use in tactical situations. These buckles are typically lightweight and durable, making them a popular choice for military and law enforcement personnel, as well as outdoor enthusiasts and survivalists.
Aluminum tactical belt buckles often feature a quick-release mechanism, which allows the wearer to quickly and easily remove their belt in an emergency situation. This can be especially useful in situations where the wearer needs to quickly free themselves from their gear, such as in a water rescue or during a physical altercation.
In addition to their practical applications, aluminum tactical belt buckles can also be a fashion statement, with many designs featuring unique and stylish patterns or logos. Some models may also include additional features, such as built-in tools like bottle openers or screwdrivers.
When selecting an aluminum tactical belt buckle, it is important to ensure that it is compatible with your belt and that it is made from high-quality materials. It is also important to consider the intended use of the buckle and whether it will meet your specific needs and requirements.
Detail: